Hi, we are working in a research project involving field recordings and spatial audio at Universidad Austral in Chile (see link below). As part of the project activities, we are planning to carry out an audiovisual installation by the end of the year in a museum using Ambisonics and a 16-channel loudspeaker setup (see figure below). We therefore implemented a patch in Max using the Spat Ambisonics objects to test positioning monophonic sound sources in the horizontal and vertical plane. We have been carrying out some informal listening tests with monophonic short bird audio samples in a semi-anechoic lab using a 16-loudspeaker setup (4 below, 8 at ear height and 4 on top) (setup figure link below and details in the patch enclosed. Do not consider the extra stereo pair also in the room!).
We have mainly tested sound source positioning accuracy and we have experienced the following problems when using the mentioned patch:
Acute front-back confusion when positioning sound sources in front (0 degrees) or back of the listener (180 degrees). This is also appreciated in the sound levels of channels 1 and 5, which are both very high compared to the other speakers when locating sound sources in front or back of the speaker (see figure below with output channel levels when positioning a source in front of the listener).

Sonic variations in the vertical axis are poorly perceived (especially for sounds coming from the bottom speakers)

Sound trajectories are perceived well, but become diffuse/blurred when passing through frontal (0 degrees) and rear speakers (180 degrees). (front-back confusion?).
We carried out the same listening tests with the setup using with the SPARTA plugins and the performance was much better and we did not experience the problems described above.
We finally tested again the Max patch decoding for a binaural headset instead of a 16-speaker system and experienced similar problems to the ones mentioned above. We therefore assume that the decoding section of the patch algorithm is working fine but there might be some problems with the encoding process.
We would be very grateful if you could check the enclosed patch for us and let us know if you spot any errors that might be generating the problems mentioned above.
Many thanks!
Martín and Felipe
–
ARTS AND TECHONOLOGY LAB 16-CHANNEL SETUP (with speaker numbers):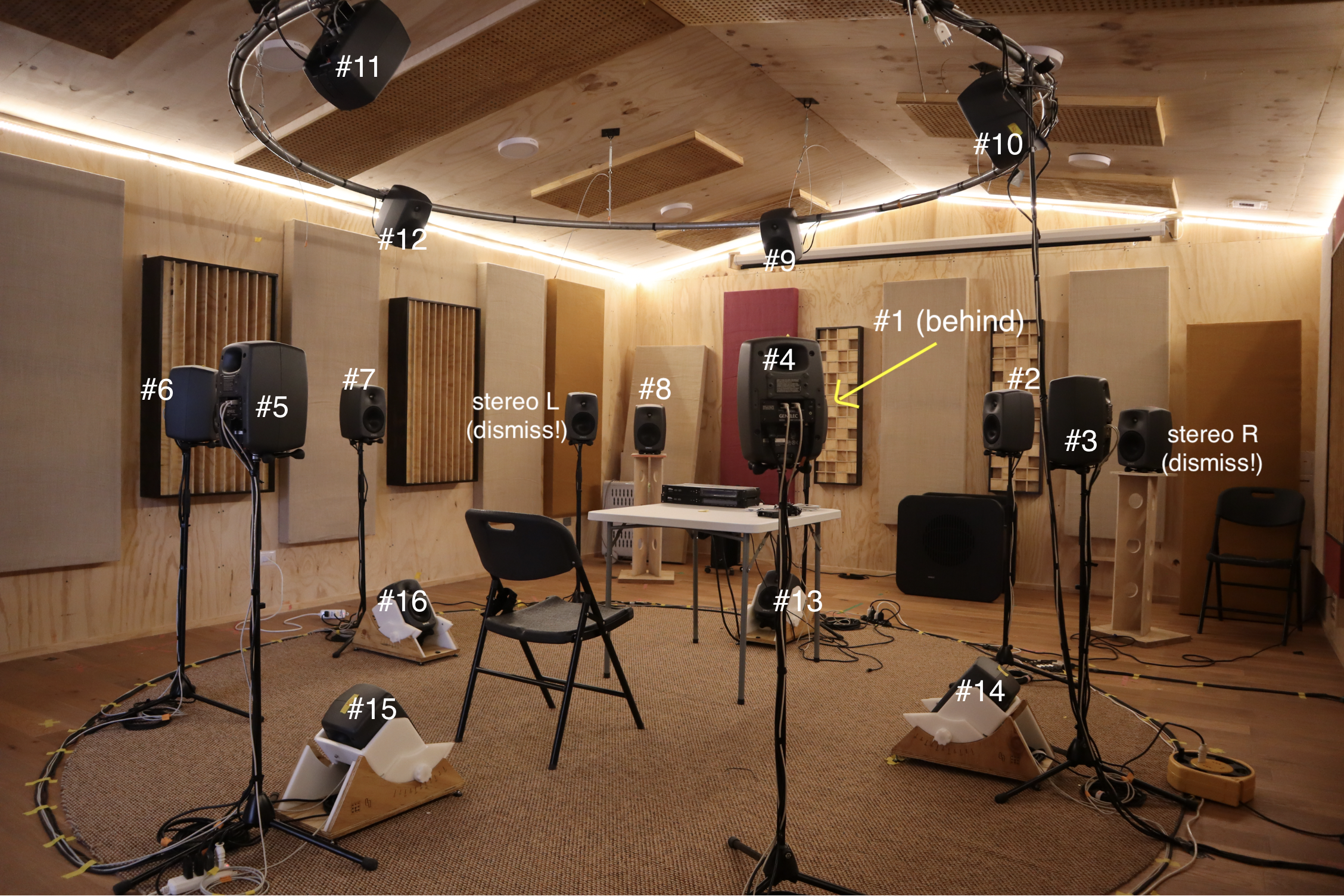 1-8 horizontal speakers with speaker # 1 at 0 degrees, 9-12 top speakers with speaker # 9 at 0 degrees horizontally and 13-16 top speakers with speaker # 13 at 0 degrees horizontally.
–
VISUAL REPRESENTATION OF SOUND LEVELS FOR EACH CHANNEL WHEN LOCATING A SOUND SOURCE IN FRONT OF THE LISTENER (CHANNEL 1 (FRONTAL) AND CHANNEL 5 (REAR) ARE HIGHLIGHTED).

SOUNDLAPSE PROJECT: www. soundlapse .net

----------begin_max5_patcher----------
8414.3oc6cs0jihjc94o+UPnXdv1QMpy6W1m5cc6c8CdrcDSX6G5oiJnjnTw
zRfLfppauwz+e7C9Ww9Gy4E.ARffTBjppTUwLcUBPv4bxS9ctlI+028CStK9
qAoS79Cdex6G9g+569gevbH8A9g7O+CSV4+0YK8SMW1jYwqVEDkM4F64xB9Z
l43+bbT7OkFuIYl59kex0IAopq0OKLN51kgQAyh2DYtbTwU3mM6gvnE2lDLK
yRFbNXJQp9gQDXLhJoha7XL4Tf5GDVPfBJWBuwCh.So5ChoPFiS.DzMdHxTf
2myu62GGkcu+r.8MFlernMqBiVFjkV8fgyM7P7c+1OAIS1dkwaxJtTPk6YZ3
+i8dxlBzG82e26z+yMmnH7O8S2GmrxOy6Ot5tvz3nvY8PRhaWRBAHzTsjTRX
XJU.k7a73.5TLlwXBNGwjb0YThRAYLDknQWTtZ1z0K8+1xvzruW7vVEO2bKm
bmeZ3rIGR9fUrnRjfg0DITjV6hBzmCCpHDxBWEjlkDntS16PU4iZjKJaVbh9
9qFkpxnFBIaSj5wqOLg.NjDb1C9QQAKKGggr7SDmDtHLxe4xfnEYETflHUD1
runtGetgw.XyiAjRwRh+pfrfjaCh7uaYPUxt34kErZcrgRP5GW9IM2qrusNv
RHSVsYohLrzdZ3B02ahhx19W5+ednQ13m7ssD65Pk3rY41+8F+kgYea+Ay6i
WtL9oEKiuqB0U7sl6m4mqxjqynjoKCWWByU4DpS4eWZ7xMYAJEjGrHY9yBix
hSev6e9i+g2+ejFjj99U9IYJQwhMgK8SlGrbg+732+wfzujEu985oqe8OGtL
X5S9OlShFpTcnHkz0bWOzE8kvH6Hl+l4gw5iT4BxGL2.TZj.oDQpbtkwwqqv
5FNUMoRgTbapBrHnPLXX3hK42K9qe+cde9caOhiS8tyLiJHoXL4wvfmdLLM7
tvhwrBE536uOMHqh9Z04TKim8kf4yS7WjNKQMrVcjTMpM6KYOjDuYwCUOtUU
8g8+B1S739mv9TJ.aJmWtn.qn7HwpQ2jpGoAbCFWn4Bljp+EBh0+BVCtrwI1
k5BopaJcZXz5MYeepRnp93j8m5JadlKrsIf4S0rioNNXFE7j5QtmEIKg9Pr+
zjXs9z289fQ.4g79vbEXXTpZFqG9ideHLJL6ovrG790IuORgE58K+q3Odi26
+l+SdRvuNw6Cql4AO.XLQP2yVEDQQJjY0ODBQ4HfBjVdiGgYPsU115PdWQVh
aVVhbCLaKnUp+iAyuUcmUz+s9YYIg2ofPR2E1oQz0ieJWKiRKi8memux1xAL
0wlpLyKESY5evLhxgJtTp7rhJbVXBItpZZntiRwbY3iASUx1LkkgBfF+jxYR
UN8mPe9PB.tYRJFaUx3HkJlfgIZC8lyPcQ.PAGV.zz3dqBmc0pJUmNfh0i9K
2DDeeI9dg4rZO4MqxeBJ.Xs5q135muY+qbYbzhFkn3OOogKekZ.pBCU6boOD
mj0z8poaTgL.8tp1kN2yLnPCDCCHg.BjxHJHFFIG2QvfBDWPA3iblB943LE3
m6PfH1SfzT7WGwDGB4pXhC5k9Dm0d2ob2cSh+xoJW2TJHoGRiApzNTVUv5nG
UwHHAFbUBmLUEMIiyERDBHTNudiNlqCOKBzTLLtZuoRzE4NotiZf1G6GUN1m
GvQwHxD+0qqb35ZHq7+sXyMRTNjnna6gnkGJIP6Dr86iJOpehRnkojXaRriv
eks0OdSDqIQaBMjRwX5MkgtnFqzZFJmwlkGXqZHs3zaGFnRy7Q.y3bJw3oMQ
TwWasCuVGgqFyvj30ApHSqlggZmddv89JugtsVz5noMd9hLDz3I2FJTRn1ep
7KYQR373HMQTajPe3hG2mZ.qI+Jh7W2vW15XVKmTGYzlz67SLQqXwXJFoljE
Gur9oJ+dKCtOK+zqCUNFVWJpBDr8SpBj9gC7cuKVcxUG5daNS5sahrm8VkNg
JDOEpW8qye4x7Iz0u8e0OJbkx+ccBLLrKn7j6EKEr9YdrgyLWoiOK3ov41Hl
AUUFTWd35BknIkixyCWDjlU+XYpX9pejzruYE5UNzlh.MuUGo+x7nZ2dApYG
goYJ7ymRyuvBEspBffVh9eK5XsiuCJoEfYaf2MCCJMwkfQ3hDGUO8QsZgbO7
tI0+B6m5r7H8soQrpzvbmhlG70JPI0h3+liTBTyNQcaEp.z2zOQChZ7BGI20
DPuEMDP6xlpeklrHLfRCi844IwqqRM64s0tWPCBFLCZ.1HDa3IFWLI3iPxPO
fVCpFQzpGV4nbKBxyFkl989k+s+7ezSatzSMyJn5ynlAA3TvAE+Uidt7a2rE
AKNxLkMwhryTk951Uu5Cb66x2NmupHILpAf+t85SKnpFrT291sipQid2Q1d5
RU1p+4.nGqbpH0eQPiSqe+CIY22g5KhamPCY4yqocMuF0r1K5Ywz5CIN9RvJ
+jtDGJXNc0TXFwAAZkMGi3nmxCmlB10zuyodk2OB6xjACVQ0hv51jQKxRr3Y
gt09FPqZuvln0z368mpyYQPRihtCdUsKCy0GKRW8QXbAQaWFhOESBNZVnizt
tKxe6oesUjzsgWnqxZKNMZD05y273tsJ3EoPH21rWcotxQYcAkJbT9Sa0U24
BWENecbXTVNof4.CHKvNxV4S8Ta0UZW6wUun8bdbTHhFjKMSDMPs6H.KDYTa
dH.3xOMRztdtiSC9iCUfFNUPf0Y9ylJHZvF7QBlKC9kkG0sp93TPv1hXuSjq
MEi7wmiu5ViqXIdd552OaYPoeMMZCAIvSEX..HPHJg.j.VaI2K2jcq41C0Tt
8DtmaugrmaxSyomIhivCWp.cpw0YAGJwbHEHoTjNoTHtUT.EPktDAi0GEwrU
P.qNjfATxqa7zg2c3bkqoqeaiR499vYkp2MkHcH0gdqozR7j61b2NYU2djzv
4UyCVatGNPB8OlKq8xh8pVoUuzuklEr5.CAXlvTbBLEI.Dn.KYsMBfzk7yTy
BFBoF.v7gc..+JX.3PJ6XL2HpI5o8JOIElFEinA+0+v.bIii4LkXUgpZpqLS
JH5Z2CnCQ2icFZerVq9gtkGRUvNcT4CRdYwTfjbBCfQbccwTx.S2zo3.lR0j
KXXkL5Hp6waU8n6pd.411ugY+EfXhxgoyz3a083s5d7VcOF85dfk7oDcGEAj
1e3BcNrEmXUPPOCqBhI2sYwKVrL3fY92dIa6yhVEcV4itM2.M0PE8ujQ8Lgg
ck8+NxZ3nl78N56hNyBegPW1Zh32qAL5NQ8ceS2oYLtXoqec7SAIpYCJX+Ti
0rtywZg5G2p9gnGcBqguryW8N8x7g6m4N6o4t5q4C0ayGr+lOXON2deN2buN
2b+N2ZOOaZ8eOnvnpfD1O0+jIuSlt09WaqwWxTcGqq3k5MB8dYwm7ruBQuOL
593NKXFpxLNL73qpA9Yg73sINcMwgHsXrDKFqB0S6qDn7GhJXEvQNKZd559M
6AgelVCrcJsklgV4GolgUIsEsJY4v886DA6usLPKBK1KaiYmVq5zn27XLpRi
6LzUP70uPsv5I5TEiPvq3FCnbcC0OooDYWEVGuSqOSzIGkZNqcXpWUMqg5St
SUyX1F6Aq3c0uH.1T4d.D5yMVE+EOXbBR.sbhQ0oENAMdExjMXbhtwtal1uD
7UeKwMZLqv8volPjWTEdXeEmPPOm5BgFDypeZrnczyf1EA12dVo.jbbnhASe
DikGOr0VqKlrL2h4ksVozKA8ewTpfa+4fnJd1TTTilY+6Vbe3xkyhWFmzVt.
8iVjW0ANnpUT0Y1jEuHwedXdlbqcxx6oNfQjj.gBcTiXHliXl+R8GTsdcsjE
Z+dvhuHgphDCoubBCwITyeIPXJduPPy+pnsOS.TZeR.oPGwl9uTGRWruc+pq
ShWGmTVMooXY0yV3oPNS0XZBuohFWhRfrewAzZH5xlWse1ZRisbP8i1QN0L+
+T7x4d+6wZmVB66PaU+e9jwCnpJZiH49yj+EWnwhu+mx80xSyr66P1trxtNa
Z2dUpoy093OXpfd9jFGyHm6REvKLoR0rOOhfT8l6gMBmThDg4LB2HjvBBFZ9
pj19ViJHTIjaEbncTKJpr8mpit1nlU2S0NOZD9ek65Dk2TL5TwXTG69s6t6s
gpwZNrKySki9zzujtLbdPx+ktyf56XdkgMaSGW8eFY50l4u+zxMA82Ni+rYA
5MCrJJaXnVkQOhyJ8DUlqEctXh+RRPPzIwEl50PM80p9ufLgxY5yBCrY0cAI
+EkqKmD8qE3.yLPpDAolwCX0YfmNS7ZoowmM0z.DK7Ci9dSanH0tfOQN3VJB
DyLMnqfJkJ7RUDq5sBBF.X5vTJPnhfCCXBjdGKvtRXYc0ot5VAa2sJuFav7i
XGvamshuiZuhR8+2uLVWRNcqjnGAGkcqjZ8AS8wD5A2ERXasLV6rgF8ueppk
yVaQl5Oul20SJjTMc21DEtcdE4z2MSZqem+G6pamkP4d69XRH01B+RsNJl.0
HcL9XrQYB3WrMcT891pWPjtULl6ku+s582kuKu82endelvsc8MfH3LJTfLoV
jAyEZ.IEBoLloU7y23wDJwHhKD7cDZcKfXGV.Uos5GPYy+YXvSAGZwwP.10+
LAOEoUHXT.miT91Yqp+PzF7L1ES03WVG3+EkZv53zPscoTuCMCxVgSlE9Fku
h.nbIhvLanpNMfSPi438dack61+lq1l3yqn80RL1tNgEfZaGtDfdaBzN7xcb
Ot7KQwOEo61KcscaeqtDwNKKBrVWHblJO+iGZ6oDmuZGA.VCBGxt0fty08Fh
eXNtkkOzAVyGCyJFpkUDSkdbnw1ZCYj.BPK6uK8XGU7xp.zmUBIlQyW5SLNU
gxqhensE6yQrPHYvW.R.gn8IAGCOCNK7bK5zJmWm6O66dPOj6wtnX7oHyBQD
qTFDTARIB3tuwzRaYqsCLFahuE6oeeuyci2V3ZJqok5Jk4NaydMug7t1K055
TZmaIuPa+Kw3tCYhea4A18xCTIlD4qLPqGLXaqWy4x2Vffus.AeaABdZKPPC
BUW6BQDtcObh12UDH3jVjQczSlm0ELX8Pqqak3eJ5w+1+Wrme9VOgdCGXdbR
4aOm1WX9FmvnPquXJ2OOTj18tyhk8a4VtSf2mgEFPPz7cMm1p+oTqjwXRUvO
5cYxCzWvfyjxwebYl+iw5bwsNLsqUUDDp2WaraVC.txuLtTGwtMSbDAhSPXf
jxsuyjFD0EH6RpuzOIWT3iA5M1Eu0ahxh0+gBDdixIxpeuldsT09VitVlhja
+QmRXbwp20hrwOFoI84uzz+u8+lDD2I5DThmJswH.z6NHXoIJYlcCBGSjHDW
BXzgTWjbIkd8ZMxiroGkA4SkR8FkBhHUySo5MJ8WYqQ9Cfkuyqig1DVBE.NW
230Xim66+dWn2xG7wtcAW40vvyFwBW4FExrekANQwBR9JRrHTvuFsE5oJUnO
ajJGZYRAmRoc5wMFZTUv.towwAG+ZjRxe8thy.c6pM2nakKGy2fiON4n30qb
7mHcpQhIjpZjmjjT9pcojt1+Kdfo5+CNs2RThvjHQPO1hjwsf7A.O+2cExiA
78h26GL26Ggd+Hx6Gw8VJwsRID+32TtAvWuSg6iUEjPLPVUP.zUrUEjRmbXr
pf.3WwVUjcKIAvAxpBBPdypRUI5PXUg9xwpB2IqJkRogvpB651phN2PCkUkq
4XUf.zfYU40brJPbmpj.prlJ4I7hbA7VvJ0jnCfYE3KnfUXNYVoTJM.lUfW4
Aq..CVvJvq3fUjrAKVE3q3XUfhNEjnAKTE3agpTUfNDlTdAEoB0ESJkBogvh
x0cfJBFdnpoB+JNNkhh6N.EBf+JNLktiRonbvCgf7sfTpJPOcCJ63NvyaCJD
WLnTJjNcCJPw0cHJbDXnLnHthiPgozHGHCJhWwQnzYwTXX7PYOQ7V.JUEnCg
8jWPAnfcwdRoPZHrmbcGfBkKFL6IWwAnPwjAydxq3.T5rkuHR3fYO4s3SpJP
G.6IxWPwmfbwdRoPZ.rmHutiOgPFr3SjWwwmfkCV7IR7UrXjNXgmHeK7jpBz
gvbxKnvSftXNoTHMDlSt1azKnY6Qgvq7lg8Heu87JN7jepGsmD2r0xkKHOEj
Pp3pt8gA1oyCgf7sHTpHPyWA9mjIE1KnHTfN1lW4RIhUJYWkqGmdG65NDEIG
NPlTXnqYSJRDefrnvtpaxKgfLPFTXuEixV44fXO4kTHJN0iWEBogvbxUdKdY
24RGByIW0QnvEzgxbh3Jth7b66L7gPL9V3IakmCg0D9KonSbqAuxERCf0D90
cvIL4PEbB+pN3DFYnBNgeEW+DFXnBMg+VnIakmChwjWRgl3V2cAFrPS3W6UO
Iek7ne0pbpkO4Ur4j9T8D6d5Utf7jx5+08tuB.SppRdRRx2roTShZee.bRVU
nujrpfbq.JEhII+jsqPYW4UPQLTlUH7qXyJx7tFd.vBIhq5RnHgCkQExaY8p
p.cHro7RJsWN0nWkRoBSJnSvjx0cduDX1fYR4ZNREtDMXlTvW0kQQNXVTdKL
kpBzAvhB4kTTJ.2JjhbvBRgvtxqjxvEjB7J1hBiNXAo.uhWgnL3fEhBT7lAk
JBzAvfBT9xwfhzoZo.qGgxorTTPfWspcUdSU2ljDkWXdbwJIqS4XKuwXdtXL
Y6q9S8ayrVdgNZDD5y2r7MMdSxrBhnf47pKSlGjlEFU9lP8Skus7145VENec
bXTVZw6N870qBeJhHvXBCQ3LNhwUGjzxopcCKe602uWTUiFqh165JoLvnPY5
WfU8hxLUk+vCC5taTCfPXL66hL7zhO0hvFdo4Irq7D0tfdN.OcwGmPNxS77Y
OsySxKLKo6tP2XIJrCVRboYIgqrjj1glG+RyRbGYIAVzwnD6RyRth4Ijcg4Q
uzrjqPdRbWPdjKMK4JhmTzEhG9ByRTWQ7f.LqCdBco4Igy7j.zk01KMO4JlG
Dh5BgXbbf.I6qKnvNA8zK+BtIxFf42RLnxmOq954.agcls31t.4fr0EezB4J
aAAPdmCWxKLaAjtyVLQmrk3RyVBmYKEhQmZg7KMawcmsnzNGsXWZ1xYjPHB1
MTH8RyVX2YKZ2PgjKMa4NRHR1MRH9xxVl2FsNxV5MUntXKzklsbGIDqFs5zd
7klsbGITuM300nE3RyVNiDhYnt0Au3ysbFIj.XcpCht3ysbFIjPjcOZcomaI
bFIjB5dpE5RO2R3LRHkzi.SjWZ1xYjPpnaqwPwklsbFIjQ5FIDxuzrkyHgLQ
2HgP1klsbFIji5FIDdg8f279zourkcygs9magsHWZ1xYjvhrqcvQqKsWFbmQ
BE7d.YLRdYP6ctO6t3HLapKj4oykXCKQdlSQsCrD1UVRvK+3YMfj9yRHGYIX
dxbkm6DT2aVhHcikjft3H5kliDNxQ4N.JOy0jyANh6HGk66m7LWRNG3HGg63
TQGbj3RyQNh1I.nNz53WZNxQvNAg1wXD6RyQPG05.cMORdg4HniXcLTWn2vK
sMVnifcLVWv2iUYE0uhc6EO0sdWQQeIHrcMSX6oB8m5YiN6N0S6cUQy4yQhN
H8lNniJcfchNfiFcfbhNPiFc.GLs6xpIeNUuA8VLBGS0JP+a9.vnRGBmniQS
8tgpaeH5XzTuACG3cYcpIHRM0ax3odC5M5MXTQuA8F8FLpn2.rSzw3odibhN
FO06AD8tnB3mQzaPuQuAiI5cS8KPazAXToCgSzAbznCtSzAZznigC8tn15DD
sl1Mc53MZ16fgjrQUqhza5fNpzA1I5X7ztQNQGim18vAdWTz9yo1cua3a4nh
cK5eKdLpX2BgSzwnocK3NQGil1sX3vtK5FfymmIl2s68rb4iJ1sn2X2hQE6V
fchNFOsajSzw3ocObX2EEx9bpc2arawnhcy6eSoLpX2bgSzwnocy4NQGil1M
e.wtsqncpvpbis68309zYzoEdug04iJrNu2v57QEVmichNFOEejSzw3o3Ofv
510SOUfrp5Xqhe0OcFQ748euPXTQ7Y8uCvFUDelvI5XzT7YbmniQSwmMbH94
qm+mIJ9rdi3yFUDeVuQ7YiJhOC6DcLdJ9HmniwSweHq+oc+D3vZ9mqZGYdYM
2SI7nB4S6MjOaTg7oBmniQSymxchNFMMe5.VZzh1TFYeQ0kqda9znQ98ucdG
UfcZuA1oiJvNE6DcLdp2HmniwS8d3.1KZFZDAWS6dDcag1+sSkQE7lzava5n
BdSDNQGil1Mg6DcLZZ2D1.FnZ9d.BgTS6dDcMgz+d4cTwtI8F6lLpX2DrSzw
3ocibhNFOsaXuaiX4XRGHvvkGTzY2FBr2X2nQE6FJbZzb7nCtSzwnMKqmTQC
6nZ651MI+c5tMcJkaaZ17ob9VYc8dm5U1WNROun5JvU+wy4xer2bDsubDOek
BBESE7F9rsTHEq4ALwkERXthphwemkc7eLX9sJ5KXV1s9YYIg2sIytETWgw0
rzrjv0Erzjh8M6IyCWn315Gawx367WZjiAIk690kmNyegcW.ex61Rbl+0NbX
dlU1HwszvNaO6yltL7wfoK7Ci9d9cdxi9aeZ0tfOA+bw0zz1INiOEq+gQkPN
BPEP8VYuB0UnNHEHvbDFvDHKTrdnfTYqsuwcZ7IJJU8f7ihBVNKdSTlc45me
xpaA4Ea286r8iSJo2DEKkEjbaPj+cKCp9L1auGe0lkYg4O0zvEQ9KUpbSz++
8Ki8yz+wxP8n0mqM5WNre.EfG8WtIH99x4DEyHpPfgQgY5M3bCs.ppTV4hVF
GsnkAIxmmzvWXkZb2rRw1tsqW6rgFExehCZ77oODmj07yqoGVgrroa0FE6kl
8M6PP95+Leh0QoBWaOvult6GClEqlBe6urVOlYOe49iep5fzoOD6Oct8x9t2
GLy3Ut17AkFw5MYoJMMuOLObUPTpZBqG9ideX0LOnyyAnpiBYLFGJfHJlfwH
sICvtucGZdJPEsbVyJ44udCpu+5iJFH6s9cIYzvtsuavbMMaCLTCwM8JNnow
BEjyz7MWGPSudC5VZ2BlBrIwMrcw8AErGg3vL2yHEZPo2dx3EKVFzsrAILlD
sQgBocIazOybCWOFlFd21GQUoF5vJoNgDWWurbjemm9fB+FnH67mt5p0dkn+
MZR2vvUD8eBgEGDFF1IHa06Fm84CAyhNcTz5umVZ3czx+v6yE5d+HraEKLRX
23I5XVGpA8G7yyYcmDHDAJORPHr7Ek3P4ezbstj26eJLZd7Su23wjRlbPylR
SILnPyFsOjJc1vHBcXoTaukiNK5.VtiANVU.I54oJvc4glTZFJL3ICHQ3xvr
uUS7e+8oAYkdzdSU2ZUpLy9Rv74IpvYlkDubYEGGmLaY3runDuwaV7P0iaMc
7v9eA6Idb+SXeJEhohid2hUJe+pcjsg80o9JkZGQsuEO.cMjVJws9dtXS3zY
pABEkNUIWq3jZkwdN6YrhM2lWMh8sQHzYEaN+ksCVeh+4NkNigKVP9atXobw
h.FPWrfOG7vZi4o1OOsxm7YeGABoHmczp7ct3yZOKpN0yhapMyr0nyNAzaOo
2GzIQ4ovrG790sBXEadm5bhaduM4iEG.7qSNfbFBLtxxj4cLs61uaw7M1U47
M6NY80Qb5EBXV03zcw4ux2F0iqMR2xU5ghIfILoDESQB.AJvRlITIoM0QH.C
xYbJWbim.ZySJ3XxSprg47riOMoEILp5s9YVpSaOqnWwoDsbdnhFm6O66dPO
jG1i3Q8XdbOgmTo7oPd7fHOHVororl3sUQo2Y4jynSoL0OBpt4z3.HRMQl4d
VNaY5LX3jDaS9aPTQxe0Y1c2r8VlP3vHS9fIGRnXayTHfhmJ0+PQXHCITSvU
lMnLmEC3N7xy4z59Bzn.GQORiBP4Ywnv0aLvTtwkSn8kHLVXeaLSfNFE7pXE
3WbR6Q.iDCGbvZe0TiCn0YiRCwzE0WWvFJfqf2jBhtbM12ufBQWL3VoGogPd
AsvM09xyhWFmTWUI+epJd2cXyOZQ9r0oaGaqcqvPBFIYBLW.zu0gASQBrB9l
vHTDGh0GACDb.AgzLNPBqqmtNIdsxrWd4qUmYDFDPPxThF.UnhpAQYF6HJBW
8zz+v.bIii4Z5GhfLyQgJ7BFggkHMXKmOUaGhwQHjjqMHcBiXP3aCYG0PlTg
EX7RPpc0ESPDEkwyCakiOooQzWsCIlKp96ub6Hzt8SS93z9uDuq0fkG9E3ci
pB88Ag5wyoZ2kczOHnKrTwn5NsDDy1EJL0XgJjKJiH0uZHj4fGR0nDRHol23
a7ozFO2oxEvdvD3CxD.aKZA0tZtC.mxxjjZmCpfAoJOxk7luxSkMn8gM3Cg9
E2gmTyRLLzT8MkfCLEplvphsFnLYfzxFDF2x4NQ5F2G5t9Nb6tzcIsIrMNBC
qLtwjbE.qF6TXwUqm9f8uzSjOpuX1NN4ujWJi0dSAHDHfSvL9NC.6bxSjxkm
LgyDFBWnHMSrbbFTMkhnfBJo6FN2oR18AQcGrv8fHL0hhQr4MJGKy5T9IQab
9ISaBjswYQ1Fm0tzLq7AlcgrURznSmnY8fnkCgsPl7jEOXalRF9gt5K+31lN
H6AsQ.1kqRkOcpzVeT4KXfS6I0GyuGDTFyISolHPzImEoLVXdsHph+0XfkPo
DLQg6py5EmYyvasDj0vkdpLUez5FBWvn84IAqteOezOJRulJM.OHbedPrgP5
gOUUuF8sS2.oHsBIFhjHBVPgsp4s+kdpNm0GEBzgcNfPs1+A53D04MlyQJOW
H.sSNEdts+IOUJuOPNU2JhNdWkkm53dtU.U.PvbnGIj.wBtjz5P89WZ4cu9J
ZXb4qchSnYFiacyJ2iJym1mXgmFwJ5yv8PDuBrW98KFhmD6zsk0TLDDyBlSG
0qDygTfIf31QT14RO4.K6S7FP7fjPg9oACFjmUeP+KSwwo8rvmrWnHVgSnzZ
NgN7yKwmLHhkV4BSkhJwPple9gBvqWHdztfxkp.z0S4fLnNqfXhouc.1kFBQ
PQpYRHndhHTYZzVIUUX7DUTzBYyW6ImSJwoyXHIVgknfBDHDkPTbllEnPYNw
RjDUT8J+camw1+ZOYFqOt6SGjrSdxN2ovhMHoHAmv.XDuHXAMrKAvHDAVENL
6PwUrykVimroT1e85GCRRyILC6LYk+uYSqs3FyGCirejZ9XRftRl1q2Tz4I9
IydHLKXV1lDaM79JyVRbSVzSh1DlCLXVWjSLEPPWuuz09VYloNCu62e2+OXh
ktpK
-----------end_max5_patcher-----------