Dear all —
Can anyone provide insight into why PiPo.peaks outputs only frequency and amplitude columns but not the additional phase and confidence values required by the peaks SDIF standard? Could these extra columns be exposed via some hidden feature, I hope?
Like Jocelyn's recent post, I'm unable to open my SDIF files written in MuBu in other environments. I've done a rough comparison of the peaks SDIF file generated by AudioSculpt and there are a few differences — e.g. lack of these 2 columns, but also the lack of a file header.
I hope this is correct — I'm sending MuBu the following to generate the SDIF:
track <track name> info SDIF.StreamId 0 SDIF.FrameSignature 1PIC SDIF.MatrixSignature 1PIC SDIF.MatrixName Peaks
…before sending the writetrack message referencing the same <track name>. It seems the SDIF.MatrixName value is user-defined, but should it be anything else?
I've tried hacking the Mubu-generated SDIF to include a header and fake values for phase and confidence in each peak, via some hardly-perfect regexp-ing, like so: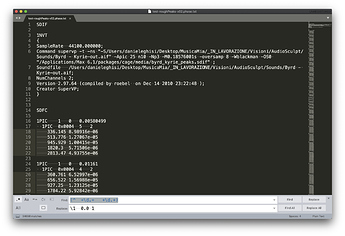 …which adds an arbitrary phase of 0 and the flag 1. (Each peak ending with 1 seems to be consistent for all measured in peaks in each of the AS-generated peak SDIFs I've examined, which are successfully read into other environments, like the bach library SDIF tools I'm using.) But after conversion using the AudioSculpt's TextToSDIF droplet, the new SDIF file still fails to load, whereas my AudioSculpt-generated files consistently load without fail.
I'd love to take advantage of the MuBu environment's approach to peak analysis; its traces display of the analysis superimposed on the FFT remains unmatched by AudioSculpt. Please let me know if there's anything I can change to export the SDIF properly.
Many thanks —
Louis