Hi LI,
Please make sure you are using the latest version of the library (OMTristan 3.4).
I hope it is not related to the language issue. I see you have Chinese (?) characters system.
Because on my machine it is working.
Best
K
Hi K,
Im using the latest version and I change the location path (without the Chinese characters) but it still has the error.
Thanks
Li
Can you start with a new workspace ?
Hello Karim, hello Lili,
I might have download wrong Libraries category, in Preference I did have some libraries, but in Classes, Functions / Library are empty, how to fix? thanks.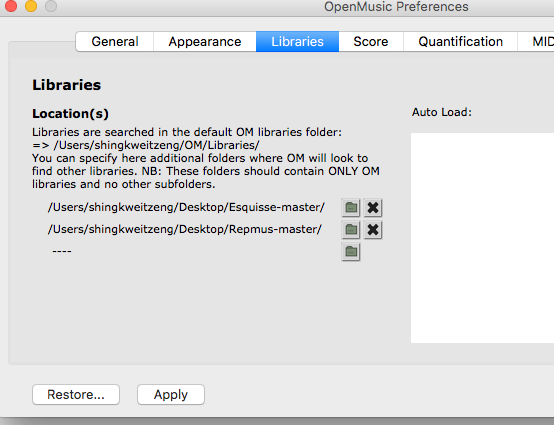 Hi,
move your libraries in /Users/shingweitzeng/OM/Libraries/
rename each folder Esquisse
and
Repmus
REMOVING '-master'
best
k